Jill Perlette 1-5-74 1-13-01
Let your memory ring in joyful
sounds. Love, Mom and Dad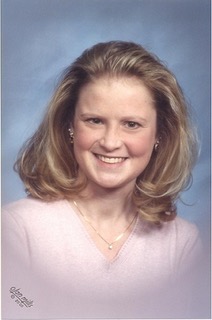 Jill was a 1997 graduate of the University of Buffalo Nursing School. Her burden was cystic fibrosis, and from the disease came a strong appreciation for the special skills and demands of the nursing profession. Jill's goal was to become a highly skilled caregiver who, through her own life experiences, could truly be sensitive to both the medical and emotional needs of her patients.
Born and raised in Tonawanda, NY, Jill pursued a career in pediatric nursing after graduation in Raleigh, NC. Her decision to leave New York was necessitated by the specialized care for CF that the University of North Carolina offered. Jill actively pursued her passion for pediatric care at the WakeMed facility in Raleigh until succumbing to an unsuccessful lung transplant in 2001.
The desire for educational excellence and an active life was at times in conflict with Jill's physical abilities. Family and friends remember her reverence for rainbows. Rainbows represented beauty, solitude and symbolism of our strength to carry on through the sometimes stormy and uncertain journey of life. In that spirit, the Nursing Education Fund has been created at UNC to keep Jill's pursuit for academic excellence along with strong appreciation for quality of life alive in her memory.
Maureen Perlette
Jill's mother