We remember Ben Woodruff
With the ringing of this bell
He is making music in heaven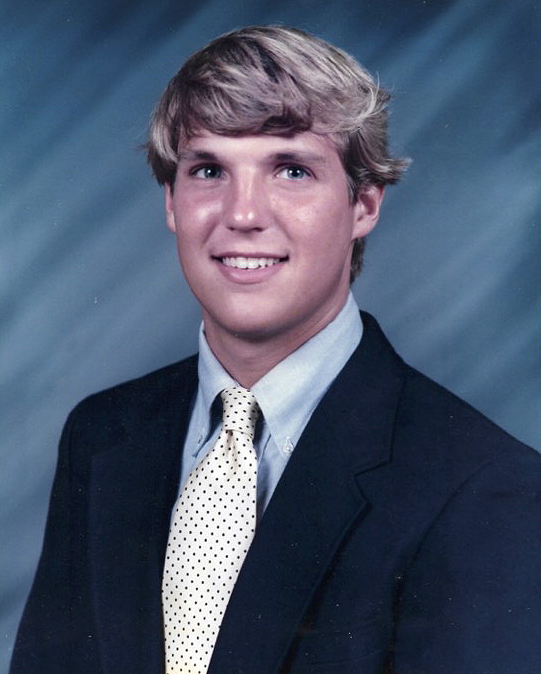 Ben was such a laid back guy who could never understand why his type A parents and sister had to be constantly doing something. Ben, even in his easy going manner, accomplished a lot in his 20 years … honor student, soccer player, guitar player, surfer to name a few, but his most significant accomplishment was his kindness to others. After his death I received many letters from people I didn't even know relating things Ben had taken the time to do for them.
Sunday, May 12, 1996, was graduation day at the University of North Carolina in Chapel Hill, as well as Mother's Day. It was a beautiful day with Carolina blue skies; however, it also was a day that changed my family's lives forever. My only son, Ben, and four other students died in an early morning fire, which was caused by carelessly discarded smoking materials, at the Phi Gamma Delta fraternity house. Even though the smoke alarms were activated, there simply was not enough time for them to escape. I learned from Chapel Hill Fire Chief Dan Jones that fire sprinklers could have saved them, buying them the extra time they needed to escape while containing the fire to a small area.
After having experienced the ultimate loss of my son, I knew I had to speak out to bring attention to this national tragedy and promote lifesaving fire sprinklers. My mission was to save lives and try to prevent other parents from going through what my family had suffered. With the help of Chief Jones, I became an advocate for fire sprinklers. In 2007, along with other advocates who had been affected by fire tragedies, Common Voices was formed and positive changes in fire protection efforts were made. We became the "unexpected messenger" into the fire sprinkler conversations at the local, state, and national levels because of our first hand experiences.
MMIH has become such an important part of my life in helping me find joy again. What a wonderful idea to let the parents tell their stories about their children whose bells we ring every Monday night. Thank you for letting me share my story about Ben.
Bonnie Woodruff
Ben's mother